Two Michelin star restaurant in Nuenen
Welcome at Restaurant de Lindehof in Nuenen, my culinary home where I welcome guests every day with dishes that tell my story. My kitchen is rooted in my Surinamese-Hindustani background and lovingly integrated with my Brabant and French education. At De Lindehof, different worlds, cultures, scents and flavors come together in a casual atmosphere where hospitality, fun and enjoyment are paramount.
I hope to welcome you soon in De Lindehof for a culinairy adventure.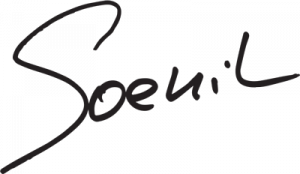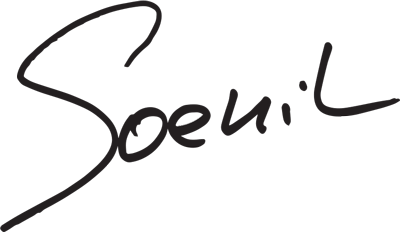 Soenil: Frankly, my first steps in the kitchen were against my will. When I was young, if I had been naughty, I had to help my mother in the kitchen as punishment. While my friends were playing outside, I sat in the kitchen long-faced as my mother deacidified tomatoes and roasted spices. I didn't realize it, but the foundation for my love for the kitchen was laid in those years. I soon started cooking and trying out recipes myself and when it came time for a school education, I didn't hesitate for a moment.
I was trained in French gastronomy, but gradually I realized that the Surinamese-Hindustani culture in which I grew up is so incredibly rich in special ingredients and dishes, it would be a shame if I didn't work with it. I went back to my childhood, rediscovered the smells and flavors of the past and incorporated them into my kitchen. The result was great. There was music in my kitchen again – uplifting music that makes you happy thanks to dishes full of flavor that open new doors to unknown destinations. With my dishes I tell you who I am, where I come from and where I want to go.
De Lindehof: In 1995 I became chef and co-owner of De Lindehof. I was still young, but very ambitious and knew that one day I wanted to own my own business. That became and remained De Lindehof, my home. In 2004 I received my first star from Michelin. I was over the moon, I was so happy. But that first star also made me think about what I wanted. To distinguish yourself, you have to dare to be different. It is easy and safe to blend in with the crowd, but if you dare to take risks and set your own course, it is so much more satisfying. After 2004 I went back to my roots. I decided to explore the Surinamese-Hindustani cuisine, which I had been brought up with thanks to my parents and especially my mother. The influence of my mother cannot be underestimated. She taught me how to master the Surinamese-Hindustani cuisine. I gradually introduced flavors and dishes from the past in De Lindehof, playfully as an amuse-bouche or as an unexpected main course. I got more and more pleasure in bringing together the sleek French cuisine and the warm-blooded Surinamese-Hindustani ingredients. The colors and scent splash off the plate.
In 2014 I was awarded the second star by Michelin. A great recognition and appreciation for the idiosyncratic course I had taken. In 2020 I was awarded Chef of the Year by Gault & Millau, which was very honorable. In the same year we celebrated the twenty-fifth anniversary of De Lindehof and my book Spicy Chef was published. 2020 was a year full of challenges for everyone, but if it has taught me anything, it's this: when it gets tough, you just have to push harder to get better.
De Lindehof is exactly what I want: a cheerful meeting place for everyone who loves food and drinks.